Address:
Baan Hom Samunphrai
93/2a Moo 12
Tawangtan, Saraphi,
Chiang Mai 50140,
THAILAND
tel. 053-817-362
053-124-164
tel. 081.885.1429
(Homprang direct)

e-mail: baanhom@homprang.com



Address:
Baan Hom Samunphrai
93/2a Moo 12
Tawangtan, Saraphi,
Chiang Mai 50140,
THAILAND
tel. 053-817-362
053-124-164
tel. 081.885.1429
(Homprang direct)

e-mail: baanhom@homprang.com



Thai Language Page
Credentials & Licenses


Address:
Baan Hom Samunphrai
93/2a Moo 12
Tawangtan, Saraphi,
Chiang Mai 50140,
THAILAND
tel. 053-817-362
053-124-164
tel. 081.885.1429
(Homprang direct)
e-mail: baanhom@homprang.com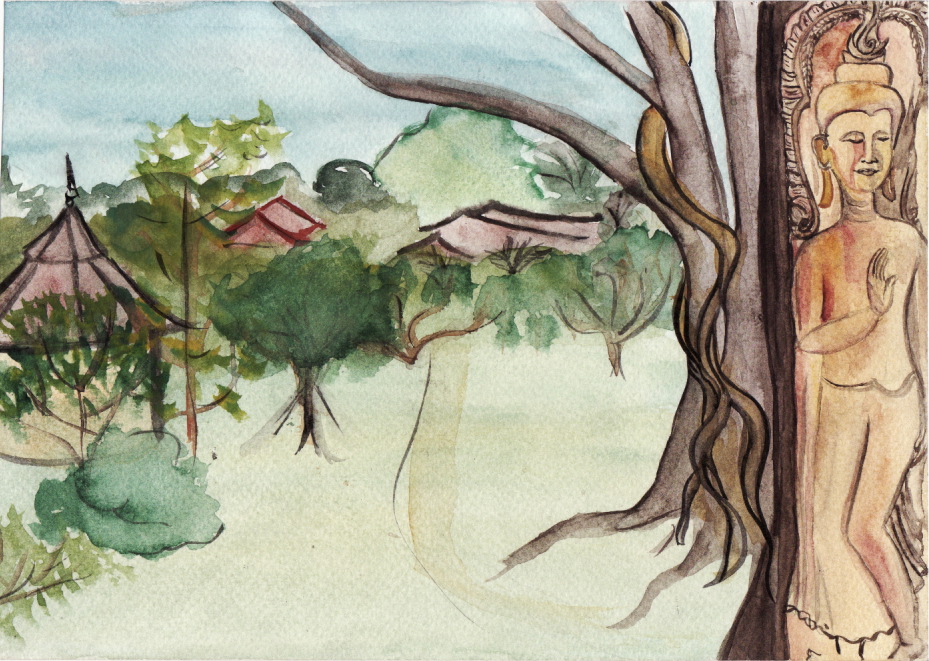 Watercolour by Inga Schmalz, Baan Hom Samunphrai, March 30th, 2009
Calendar of Courses & Events
1. Similarly colored titles (LIKE THIS) can be taken one after the other. The skills taught are incremental -- there is continual development based on supervised practice but no meaningless repetition. (The three Thai Massage courses from August to December 2017 are designed as a series.)
2. You can click on THE FULL TITLE of each course to see a description of what it offers.
3. The shorter 'Herbal Therapies,' 'Food as Medicine,' 'Foot Reflexology' & 'Womblifting' workshops can be combined with any of the longer courses.
4. If a course is Full you can ask to be placed on our Waiting List in case of cancellations.
Date
Course
Status
Booking
Jan 4th to 9th, 2018

40hr HERBAL THERAPIES with FOOD as MEDICINE (Live-in: 6 study days = 13,200 baht + 1 day-off = 14,300 baht. Non-live-in 6 study days = 9600 baht )

Full

Jan 12th to 24, 2018

80hr THAI MASSAGE COURSE (Live-in: 12 study days + 1 day off = 27,400 baht. Non-live-in: 12 study days = 14,200 baht)

Topic: Thai Traditional Massage (Nuad Boran) and Rasidaton (Thai Yoga). This course concentrates on the classic two hour Thai Massage: legs, arms, side, prone and sitting positions. Because technique with fluency is the focus, the stomach, face, and head are less the focus than the simple grace of touch and flow, the latter being far more difficult to acquire than any of the technical parts.

Hardworking beginners can learn the full Thai Massage 'set' in this course, while professionals can improve their technique, refine their touch, and learn how to look after both themselves and their clients even better. Rasidaton (Thai Yoga) is included in all Homprang's courses, but it's particularly important in this one.

Full

Jan 27th to Feb 4th, 2018

哈科米中港台身心舒緩營 Annual HAKOMI RETREAT at Baan Hom Samunphrai for Mandarin Speakers.

Feb 7th to March 3, 2018

150hr THAI MASSAGE COURSE (Live-in: 22 study days + 3 days off = 51,700 baht. Non-live-in: 22 study days = 35,200 baht.)

At the beginning this course concentrates on the fundamental parts of the Thai Traditional Massage, the legs, arms and trunk along with the different positions. The second half of the course introduces the acupressure elements (energy points and sen lines) and moves on to the shoulders, head and abdomen. There is a written as well as a practical exam at the end.

Homprang will be assisted by her sisters-in-law, Ajarn Bang as well as by her Intern, so everybody gets the practical attention they need -- but there is a lot to memorize as well, and students are encouraged to practice with each other out of class in the evenings and on weekends.

Full

NEW!

March 12th to April 5th, 2018

150hr SPECIAL THERAPEUTIC MASSAGE COURSE (Live-in: 22 study days + 3 days off = 51,700 baht. Non-live-in: 22 study days = 35,200 baht.)

N.B. This course is now open to advanced students and professional therapists whether or not they have studied with Homprang.

The course introduces acupressure techniques that can be used to treat serious conditions including migraine, numbness, stroke damage, intractable back conditions, and many other ailments not usually addressed by Thai Massage. There is Rasidaton at 7am everyday, and both a written and a practical exam at the end.

(You can Click Here for more information on this course.)

If you are not sure if this course is appropriate for you, please do e-mail us with your questions, and of course tell us a bit about yourself so that we can help you to make the right decision.

Open

April 7th to 17, 2018

CLOSED FOR SONGKRAN

Apr 18th to 30th, 2018

JANET PEACOCK 80hr THAI MASSAGE Advanced Study Group

Closed
May 4th to 17th, 2018

「此生,身做身當」泰式瑜珈按摩工作坊之旅

80hr THAI MASSAGE in Mandarin

May 21st to 30th, 2018

Homprang's most intense course -- she believes in it intensely, and students must be prepared to concentrate every minute and practice, practice, practice. Includes intricate acupressure and abdominal manipulation as well as herbal compresses, traditional steam treatments, postpartum care for mother and baby, and herbal preparations as they are needed. Men who would like to join are welcome, and indeed there are male therapies based on the same energy points, sen lines and herbal threatments.

The next Womblifting Workshop in English will be in October 2018

Full

June 6th to June 16th, 2018

「且往清邁,且行且珍惜」子宮藥草按摩工作坊

60hr WOMBLIFTING & POSTPARTUM CARE

A 10 Day Workshop in Mandarin

June 18th to 24th, 2018

「以食療身」古法泰食與瑜珈的會見之旅

35 hour Food as Medicine Workshop in Mandarin

2018 NOTICE

We will be posting the Schedule for the rest of 2018 very soon. Meanwhile, do let us know what you would like & when.
FAQs About Course Registration
DEPOSITS. Our classes are closed at 12 and often fully booked. For this reason we must ask for a 25% Deposit to reserve a place, insuring that nobody is turned away when there is still space remaining. We refund deposits but only if a cancelled place can be filled again before the beginning of the class. Indeed, we keep a Waiting List just for this purpose, though cancellations happen rarely.
You can click on the PayPal Button in the right hand column above to pay the deposit -- (the Logo is in Thai but the instructions are in English). The Deposit includes a 4.5% fee to cover the PayPal Transfer and Currency Conversion charges. To pay with your credit card you must first click on the PayPal Button and then click on Pay with my credit or debit card at the bottom of the PayPal pop-up window.
SETTING UP A PAYPAL ACCOUNT OF YOUR OWN. If you have a PayPal account of your own you can make the payment without using the Button -- ask us for instructions before you choose this option. We credit students for whatever sum arrives in our account, so nothing is ever lost, for you or for us. Indeed, more and more students are using this option to pay their final bill as well.
LIVE-IN STUDENTS. Most of our students live here with us -- the place is beautiful. the food delicious, the company good, and above all the students get to spend a whole lot more time with Homprang and her family. Traditional medicine differs widely from region to region all over the world, and those differences have arisen not out of ignorance but out of the enormous variety in the cultural patterns, religious beliefs, family structures, diets, and climates of each region. We strongly recommend you immerse yourself in this training as deeply as you can by living here with us, and in the end we're cheaper than living in a guesthouse in town anyway.
NON-LIVE-IN STUDENTS Of course we understand that some students already have a place of their own in Chiang Mai and/or a significant-other who works in town, or whatever. And we'll look after you well anyway, don't worry. (Non-live-in students must pay the same deposit as live-in students, but, everybody is credited for the whole sum that we receive on their final bill, so nothing is wasted or lost.)
For more on BOOKING & PAYMENT you can click here.
For some advice on VISAS click here.
Non-live-in students are charged at Bt 1600 per day. The fee includes the whole day from 7am to 7 pm -- the Rasidaton (Thai Yoga) at 7am, breakfast at 8am, the class from 9am to 4pm with lunch at noon, one of our four Training Notebooks, and a herbal steam bath after class. Homprang hopes very much that non-live-in students will join the Rasidaton at 7am, which is why the non-live-in fee now includes breakfast at 8am (juice, muesli, fresh yoghurt, fruit, whole grain bread or toast, wild honey, jam, tea and coffee). And the steam baths are hot about 5.30 pm everyday.
Live-In Students are charged Bt 2200 per day -- this includes a room of your own with 3 meals a day, 1 hour of Thai yoga plus 6 hrs of teaching, herbal steam baths after class, one of our four Training Notebooks, bicycles, internet, and transportation when you need it. Needless to say, most of our students choose this option as it's what makes us unique.
If you are willing to share a room (2 to 5 beds) the charge is a little less, Bt 2100 per day. If you prefer a private room with a shower and toilet of your own the charge will be Bt 2300 per day -- we have only 3 rooms with private bathrooms so do tell us ahead of time if you are interested in this option.
When To Arrive and Depart. Most live-in students arrive the day before the class begins because the Rasidaton (Thai Yoga) is at 7am on the first morning. If you do arrive the day before, your dinner and bed for that night will be considered as part of your first day of class, which means your course fee covers you through to the end of the last day of class (plus one final steam bath if you wish). You are always welcome to stay on, but there is a charge for the extra night and meals.
The live-in charge for Days-off & Extra Days is Bt 1100 per day. This is for a private room with a shared bathroom. If you have opted for a shared room & shared bathroom, the extra-day charge is only Bt 1000, If you have a private room with your own bathroom the charge will be Bt 1200.
For Live-in Students all the perks continue on days-off, including the steam baths and transportation, and many students take the opportunity to practice in one of our dedicated spaces.
Baan Hom Samunphrai
93/2a Moo 12
Tawangtan, Saraphi,
Chiang Mai 50140,
THAILAND
tel. 053-817-362
053-124-164
tel. 081.885.1429
(Homprang direct)
e-mail: baanhom@homprang.co
LINKS TO A FEW SITES THAT TALK ABOUT US:
You can visit this site to read a recent article, "Le massage Nuad Boran avec Maitre Homprang," in the June 2009 issue of the French magazine, Les Nouvelles Esthetiques. By the well-known therapist and health journalist, Guy Dumont, the article has beautiful photographs too. Click here to find a PDF file you can download from the magazine. Or try here: http://www.guydumont.com/pdf/versionFull/5.2/177.pdf
You can visit this site for some recent photos by a French student--and a fascinating commentary on Thailand en français!www.ericeloethugo.blogspot.com . And here's another page from the same site with a much fuller account of Baan Hom--also in French, of course. Click Here and scroll down to "samedi 1 novembre 2008."
Visual commentary of a very striking sort from Gonga and Tara on www.universalfellowshipoflight.com--we feel fortunate to be photographed by visitors with such sensitivity for the Buddhist as well as folk traditions of Thailand!
Expert assessment from Robert Byrnes of Phoenix, Arizona on his Synchronicity Massage Newsletter. He writes some of the most informative and on-moving Massage Therapy commentary that we've seen.
More earth-y commentary on w.w.w.realtravel.com, this time by the well-known L.A. environmentalist, Andy Lipkis, founder of Tree People: Click Here as well for a more specific review with more photos & lots of stars.
Photos and personal statements from members of The Chicago Thai Massage School Thailand Adventure that came to Chiang Mai in February 2011 and, among many other activities, studied with Homprang at Baan Hom Samunphrai.
For an intimate glimpse into the Baan Hom Samunphrai experience, try Revitalized in Paradise from the magic pen of Kundan Ewan. Just as he was leaving Baan Hom, Kundan handed Christopher a little book called My Friend Nasruddin. As it turns out, the book was written by Kundan Ewan himself, and now everybody at Baan Hom reads his stories voraciously and does all sorts of crazy little things as if they were saints. That's what Kundan did to us here.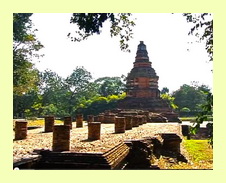 If you missed our film, Baan Hom Samunphrai, you can click on it here. It was made by Sam Kalayanee -- at the same time he was co-producing 'Burma VJ,' a documentary on the Saffron Revolution' that was nominated for an Oscar in 2010. See the bottom of our Where We Are page for a little more information on how the film was made.