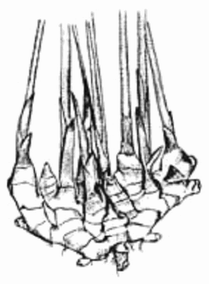 Address:
Baan Hom Samunphrai
93/2a Moo 12
Tawangtan, Saraphi,
Chiang Mai 50140,
THAILAND
tel. 053-817-362
tel. 053-124-164
tel. 081.885.1429
(Homprang direct)
e-mail: baanhom@homprang.com
website:
www.homprang.com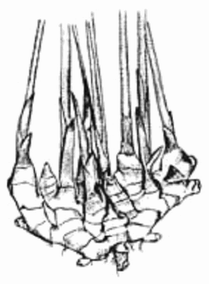 Address:
Baan Hom Samunphrai
93/2a Moo 12
Tawangtan, Saraphi,
Chiang Mai 50140,
THAILAND
tel. 053-817-362
tel. 053-124-164
tel. 081.885.1429
(Homprang direct)
e-mail: baanhom@homprang.com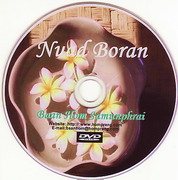 Address:
Baan Hom Samunphrai
93/2a Moo 12
Tawangtan, Saraphi,
Chiang Mai 50140,
THAILAND
tel. 053-817-362
tel. 053-124-164
tel. 081.885.1429
(Homprang direct)
e-mail: baanhom@homprang.com

website:
www.homprang.com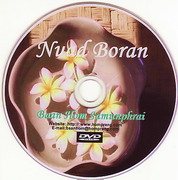 Address:
Baan Hom Samunphrai
93/2a Moo 12
Tawangtan, Saraphi,
Chiang Mai 50140,
THAILAND
tel. 053-817-362
tel. 053-124-164
tel. 081.885.1429
(Homprang direct)
e-mail: baanhom@homprang.com

website:
www.homprang.com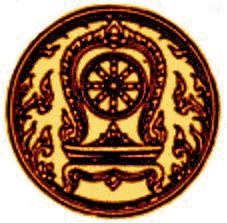 Under the control of the Thai
Ministry of Education:
Chor Mor 04-004/2554


THAI HERBAL MEDICINE New Version 2022
Baan Hom Samunphrai tries to preserve the natural Thai way of life and make it available to everyone. As in most developing countries, people who can afford it want the very latest high-speed fix or connection, and the level of stress is as a result rising perhaps even faster in Bangkok than it is in the West. Fortunately, the modern new interest in natural remedies is helping to revive Herbal Medicine here in Thailand as well, and Baan Hom Samunphrai is very much part of the Thai as well as global movement to re-educate those who have come to realize what they've lost.
Fortunately, Traditional Medicine is still very much a way of life for Thai families who live in rural communities. Most Thai country children learn massage at a very early age, for example, as they walk on the aching backs of their parents who have been bending down all day over the rice. Every rural grandmother still has her feet rubbed, every rural grandfather his leaf or his bitter herb tea, and no one has to be told what to do when the rural father gets bitten by a snake, baby can't sleep, or mother can't get her shape back after childbirth. Water, steam, compresses, herbs picked in the hedgerows. poultices and brews--everybody knows exactly what to do, where to look for it, how to prepare it, and of course what to avoid during the treatment. At least they do in the country-side -- the urban Thai can be as uprooted as anyone!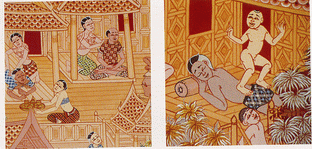 Massage is still an important social activity engaging Thais of all ages and from all walks of life.
We are a small Herbal Health Centre and sort of Thai Village Inn with a special interest in 'Nuad Boran' (Thai Traditional Massage) along with the herbal tonics, compresses and steam baths long associated with it. But our guests will find there is something else at Baan Hom Samunphrai just as precious, a certain way of being that has to do with unpainted wooden spaces and natural fibers, with bare feet on cool, hand-made tiles, windows without glass and the slow comfort of overhead fans: fresh fruit, light lunches, a miraculous glass of cool water offered on a simple bamboo tray by a young niece or nephew. One sleeps more lightly here too as the strains of the busy world outside drop away. Natural Thai living indeed, and very rarely available to those who can afford resort hotels and spas.
Here are a few photos of what this life looks like at one of our old houses--this one is called Baan Uii Dee,
"The House of the Good Old Lady."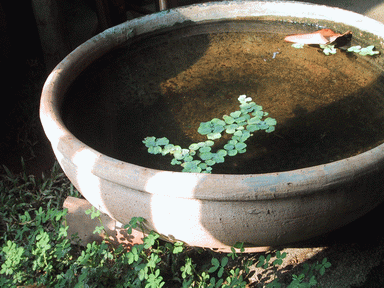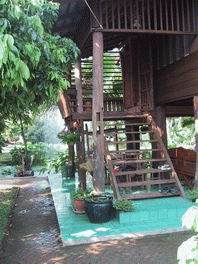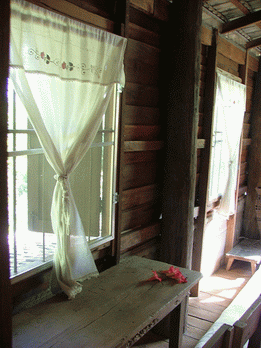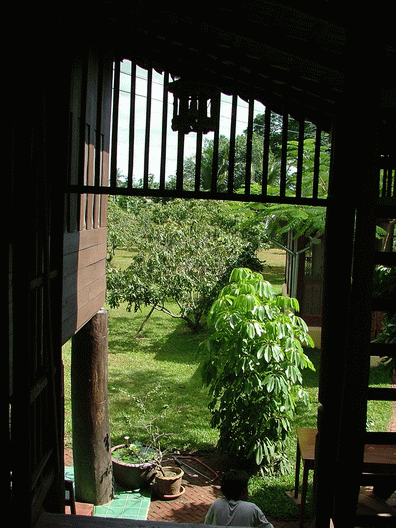 All Thai houses have large ceramic bowls of water at the threshold with aquatic plants & tiny tropical fish to keep the ecosystem balanced, fresh and clean. And that's exactly the Thai way of life too--in a nutshell!
Once down those wooden steps take a walk in the orchard and garden to look for the noni fruit ripening between the coconuts, the mangoes, the jackfruit and the longan.. Perhaps you'll recognize those red berries too--if not Maw Hom will tell you their name in English as well as in Thai and, of course, what they're used for in folk medicine. While you're out there see if you can find the place where the ginger root was dug up for your herb tea yesterday afternoon, or the turmeric for your steam bath. Nip off a leaf here and there to taste the four tropical varieties of basil so important in Thai cooking, or the fresh lemon grass, or macrude so essential to Tom Yam Goong as well as to our steam baths. And can you find the pineapple plants and the sugarcane--both of which are used in medicinal preparations as well on the table? Or the rough leaf Thai people used to rub on their teeth instead of Colgate, making the famous smile so radiant? Or the betel?
The cornucopia of Medicinal Plants--all photographed in our own garden.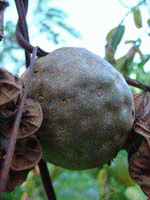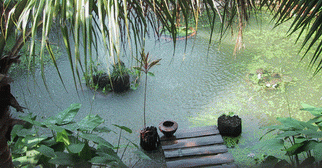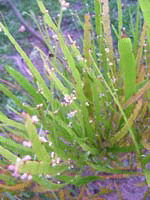 Above all, Traditional Herbal Medicine in Thailand is about country people, and how such people heal people by knowing who they are, what they do and how they live. The most important step in this healing process is difficult to photograph or catalogue, because it is about just being there -- in oneself, in relation to the patient, and in relation to the environment where the healer, the patient and the plant all live. It is this that Homprang and her family can show you at Baan Hom Samunphrai, but you have to be quiet and observant. If you ask the wrong question, or at the wrong moment, or because you think you already know the answer, you're unlikely to get much. It's slow, and sometimes very curious, but it's there.
A NEW GENERATION OF ASIAN STUDENTS
AND THEIR RELATIONSHIP TO TRADITIONAL MEDICINE.
Baan Hom Samunphrai is a Thai Traditional Medicine School taught by a Thai Traditional Doctor and staffed largely by the teacher's Thai family, yet the language of instruction is English -- and up until very recently almost all of the students have been from the West.
But something new is happening -- in the last few years there has been a dramatic increase in the number of Asian students coming to Baan Hom Samunphrai from Japan, Taiwan, Singapore, China, Hong Kong, and the Philippines, and we are now offering whole courses in Mandarin and Japanese as well as English. It's also very exciting to have Thai students who have been born and/or educated abroad who are coming back to Thailand to study traditional medicine with us -- in English! And for the first time North American students are beginning to find themselves in the minority, at least at our school they are, out-numbered not only by the Europeans, South Americans, Australians, and Africans, but most notably by the new generation of young Asians getting interested in traditional medicine as well.
So now a class at Baan Hom Samunphrai can look like this: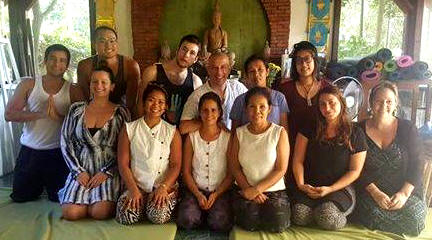 There are three Americans in this group including one Chinese-American. Top row right is Ornthira, our Intern, a Thai-New Zealander who practices 'down-under' in English, needless to say. Then Russian, French, Belgian, British, Nicaraguan, Israeli and a Philippina!
Homprang also works with native-speaking Thai students in training programs in town. Below, for example, she is teaching an Association of Traditional Thai Healers (Chiang Mai) workshop at the Women and Children's Hospital in Chiang Mai. There are six westerners in the group, and Homprang (third row centre) is their interpreter as well as the co-leader of the whole group along with Ajarn Amnuay, the well-known Hmong traditional healer from Baan Doi Pui.
Observing native-speaking Thai students studying traditional medicine can be a real eye-opener for western students. Thais know so much about natural healing already, yet they listen so attentively and take so many notes! And they're so normal as well, funny and unpretentious -- not a single new-age hair style, mala, spiritual insignia or flowing robe among them!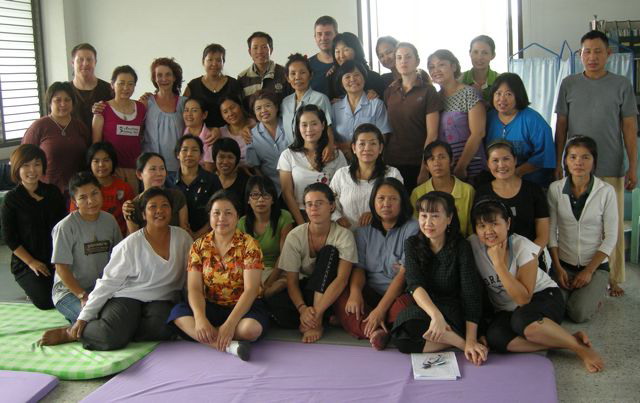 In the photo below, Homprang is giving a demonstration of Womblifting to Thai students studying for their professional government licenses. This meeting in Chiang Rai was organized by The Thai Ministry of Public Health -- although the practice is well known to rural healers, Homprang is the only Licensed Thai Traditional Medicine Doctor who is teaching it at present, so she is much in demand by groups like this.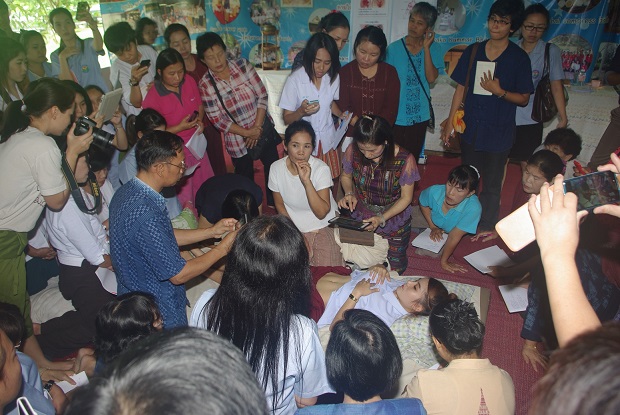 Finally, here's a recent photograph of Homprang and 6 of her own students, French, American, Greek-English and Chinese-American at the Khua Mung Traditional Medicine Clinic. Just a few miles down the road from us in a small rural village, it's a wonderful example of the way traditional Thai medicine is being revived in the local Thai community even as Thailand's development as a whole spirals, like everything else in the world, precariously out of control.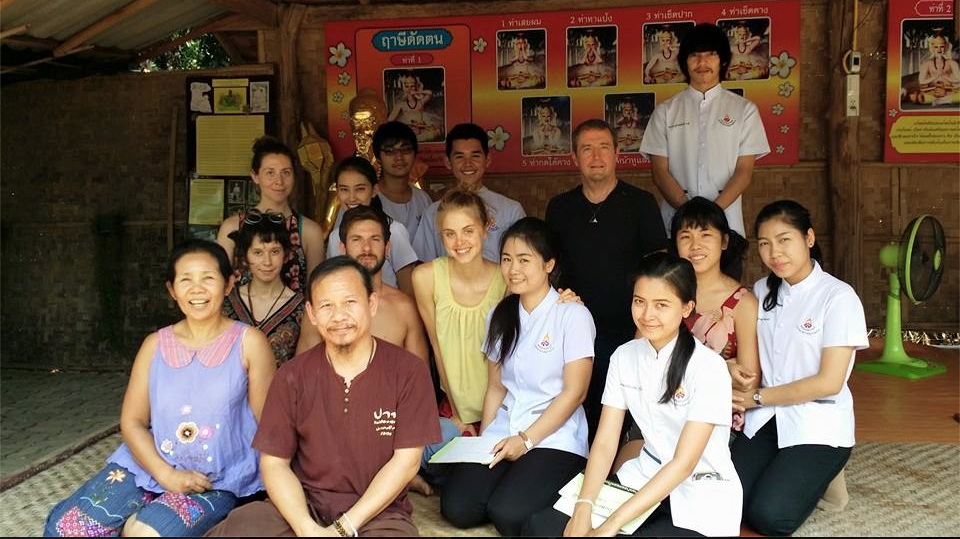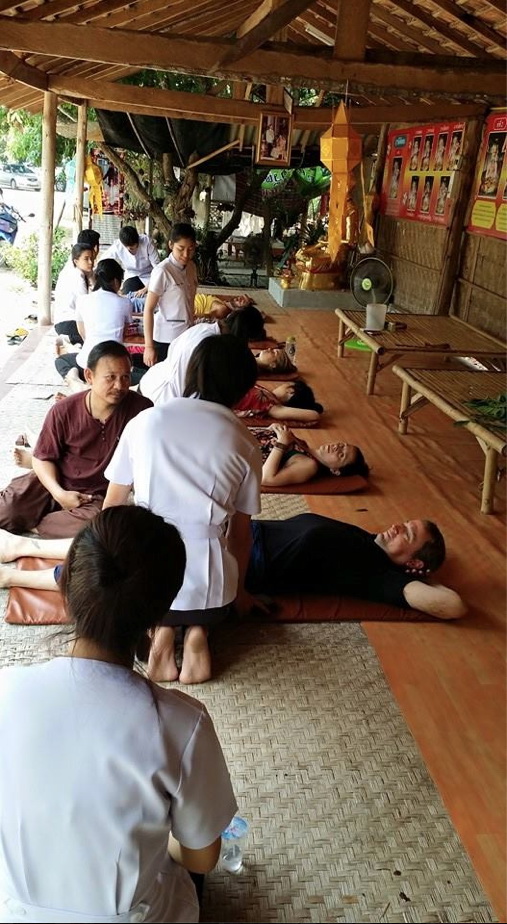 Maw La (in brown) is a much respected Thai Chiropractor, Traditional Medicine Doctor, health activist. and teacher -- the young Thais in white are university students studying Alternative Medicine with him -- Tok Sen in the photo just above. What a wonderful opportunity for western students to get to work with such intelligent, well-trained and enthusiastic native-speaking Thai therapists and their charismatic, university-trained teacher!
We can't promise to include all our students in such cross-cultural events, but such opportunities are out there, and we do make them available as often as we can. Because we all need to remember that, even in a traditional culture as rich as Thailand's, natural medicine has to be, like everything of enduring value, reinvented by each generation, not just recycled or exhibited as an artifact in a museum