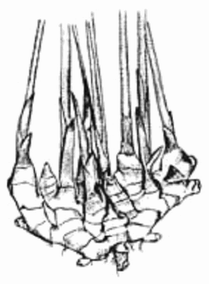 Address:
Baan Hom Samunphrai
93/2a Moo 12
Tawangtan, Saraphi,
Chiang Mai 50140,
THAILAND
tel. 053-817-362
(English & Thai)

tel. 081.885.1429
(Homprang direct)

e-mail: baanhom@homprang.com
website:
www.homprang.com


Address:
Baan Hom Samunphrai
93/2a Moo 12
Tawangtan, Saraphi,
Chiang Mai 50140,
THAILAND
tel. 053-817-362
(English & Thai)
tel. 081.885.1429
(Homprang direct)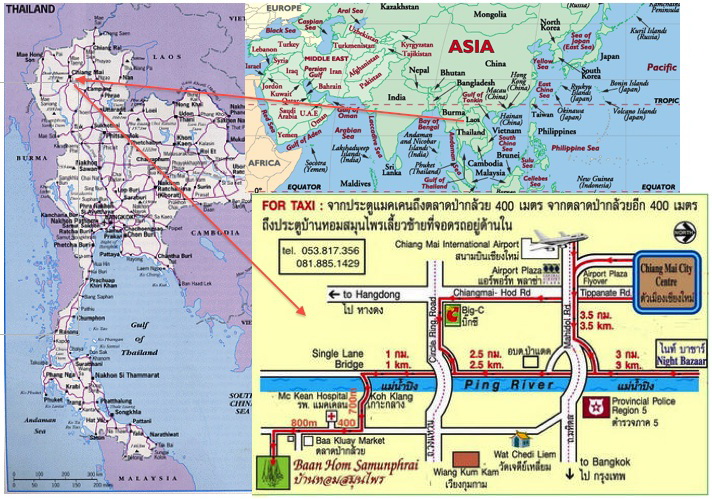 Click on the map above for a print-out for your driver.
WHERE WE ARE IN SOUTH EAST ASIA - October 14th, 2022
Chiang Mai is one of the most intriguing cities in the whole of South Asia. Located in the foothills of the Himalayas at the meeting point of Thailand, Burma and Laos, this remote 'Shangri-La' is justly famous for its fresh climate, dramatic scenery, vibrant ethnic complexity, exotic rituals, and extraordinary sense of fun. Our Centre, Baan Hom Samunphrai, is only 9 kms from the Chiang Mai city centre, and that means the full range of its wonders are easily available to our students, clients, guests and conference groups. Moving in the opposite direction is easy too, as we're only an hour away from unspoiled hill-tribe settlements, mountain torrents and real jungle. Finally, we're not only just 15 minutes from the Chiang Mai International Airport with direct flights to Bangkok, Hong Kong, Seoul and Singapore, among other places, but at the end of one of the last great adventure train rides left in the world--the snail-pace Bangkok-Chiang Mai Express! (You can Click Here for a Google Map of Chiang Mai.)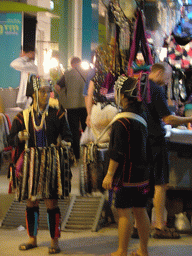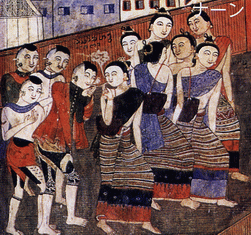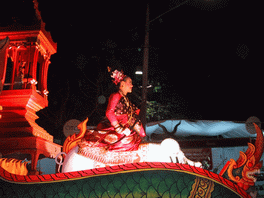 Hill Tribe women selling handmade silver These hand-woven skirts can still be seen There is a festival almost weekly in Chiang Mai with
in the famous Chiang Mai Night Bazaar. in the streets of this ancient royal city. extraordinary displays of crafts and costumes.
Our small village of Hang Quae (rhymes with 'air') still relies upon agriculture for its livelihood. There are rice paddies, longan orchards, vegetable gardens, irrigation canals and fish ponds all around us, and herbal medicine is still used widely by our neighbours. We ourselves grow most of the herbs we use in our garden, and the fruit we serve at our tables is either picked from our own trees or brought home early in the morning from the village earth market.
Walks and bicycle rides are a delightful way to explore the countryside, and we have a whole fleet of bicycles for our guests.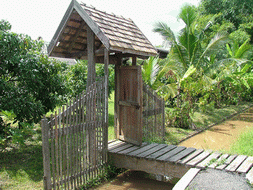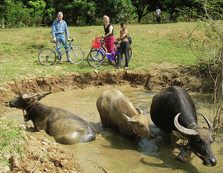 You push your bicycle through our back gate and over the irrigation canal to get started. The buffalo have just finished grazing and are settling down in the mud to chew their cuds. Faithful and tireless workers, the Thai water buffalo is among the most contented creatures on earth, especially when unemployed!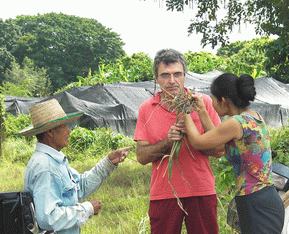 Homprang's husband, Christopher, introduces some guests to the ancient Kingdom of Lanna, "Land of a Million Rice Fields," with its blue hills and electric green rice. The farmer on the right has just dug up some turmeric for a new mother in the village, and Smokey Lyons from Vermont can't believe his nose -- and it's also a very important herb in our steam baths!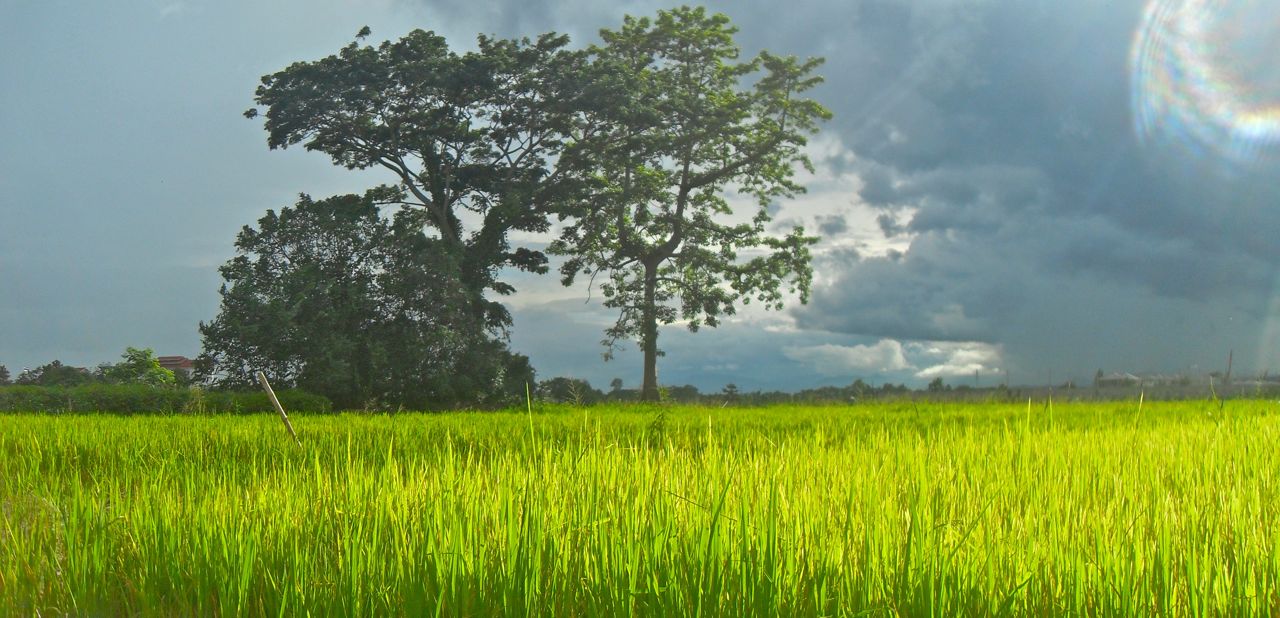 Here's a recent photo taken by Katja Mögler during a bicycle ride in the monsoon rice at the very end of the special Refresher Course for professionals we held here last August. (You can click on her name to see Katja at work in her studio back in Halle near Berlin.)
Maw Hom is assisted by her husband, Christopher Woodman--you can click on his name for a bit more about him. He's fascinated by the local Thai community, and if you ask him will lead you into it anytime, on foot or by bicycle--the river, the rice paddies, the ruins, wats, sacred groves, graveyards & spirit houses.
This is what Christopher says about Katja's photo above: "The rice is most beautiful in the monsoon light like this. It rains extremely hard from June through October for 20 minutes or so everyday, then the sun comes out with rainbows that arc across the sky -- and you can see all the way to the Burmese mountains, the air is so clear and fresh. The kapok tree in the center of the photo is one of my favorites. It loses all its leaves in the dry season in February, like so many tropical trees, then bursts into bright red flowers a few weeks later when it looks most dead. The petals are gathered up everywhere and dried to make kaeng khae, the delicious spicy noodles everybody so loves. Then a few months later the green fruit-pods split open and the ground is covered in kapok as white as snow -- all our Baanhom mattresses are filled with it. But be careful of the thorny knobs on the trunk of this tree -- according to Thai legend, the unfaithful must shinny up and down it naked forever and ever in hell!"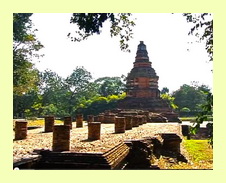 If you haven't yet seen it, you can Click Here for an 11 minute film, 'Baan Hom Samunphrai.' It was shot by our great friend, Sam Kalayanee, who died at just 50 leaving a huge gap in our lives. He was the co-producer of 'Burma VJ,' the documentary nominated for an Oscar in 2010 -- indeed, some of the scenes in 'Burma VJ' were set in Baan Hom's old wooden farmhouses. And needless to say, Sam was at the table that very evening.
The film was shot during a single afternoon, and stars just whoever happened to be there at the time. The old crank-up gramophone was brought by a Norwegian friend -- the last one out of the steam bath smiling sheepishly at the camera. The fire is what we have every evening in December and January. All the rest is what happens any time of the year.