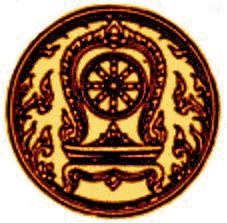 Under the control of the
Thai Ministry of Education
Chor Mor 04-004/2554
CLICK BELOW FOR
MORE PAGES


Thai Language Page
Credentials & Licenses


Address:
Baan Hom Samunphrai
93/2a Moo 12
Tawangtan, Saraphi,
Chiang Mai 50140,
THAILAND
tel. 053-817-362tel. 081.885.1429
(Homprang direct)
e-mail: baanhom@homprang.com



Thai Language Page
Credentials & Licenses


Address:
Baan Hom Samunphrai
93/2a Moo 12
Tawangtan, Saraphi,
Chiang Mai 50140,
THAILAND
tel. 053-817-362
tel. 081.885.1429
(Homprang direct)
e-mail: baanhom@homprang.com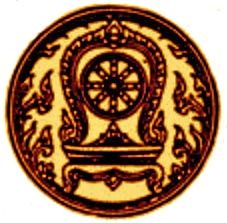 Under the control of the Thai
Ministry of Education:
Chor Mor 04-004/2554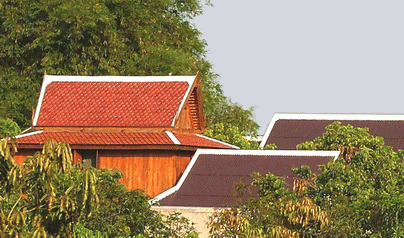 "The House of Sweet Smelling Herbs"
GENERAL INTRODUCTION. You can click on what interests you below.
We're a Traditional Thai Massage School and Herbal Medicine Centre as well as a sort of Thai village inn with Live-in Accommodations for both students and guests. Licensed by the Thai Ministry of Education, we offer courses in Traditional Thai Massage, Womblifting and Related Herbal Therapies -- our classes are for 10 to 25 days with a maximum of 12 live-in students from novice to professional. But what's really unique about us as a school is our guests and non-studying partners, some even with children. Indeed, everybody is welcome here, and anybody can sit around our big table or in a chair on the screened porch upstairs in one of our old wooden farmhouses.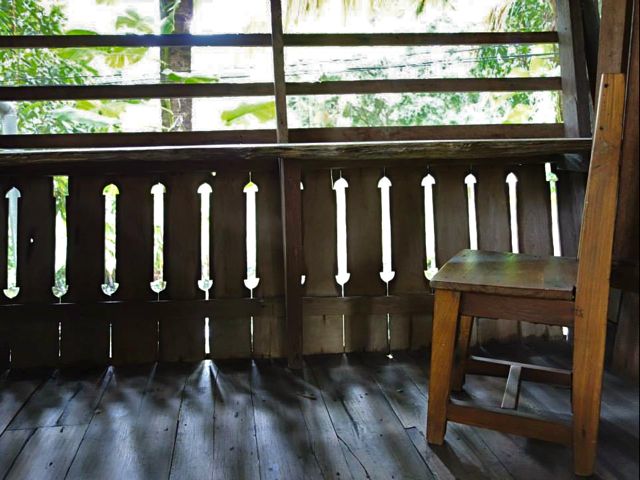 s
Our Director, the well-known teacher, Homprang Chaleekanha, is licensed as a Traditional Doctor, Herbal Pharmacologist, and Midwife by the Thai Ministry of Public Health, and our Certificates recognized by The Thai Ministry of Education. In addition, we host Groups, Conferences and Seminars (up to 20 participants) for those who want to come here with their own teachers and/or special interests. And this is also the home of the poet, Christopher Woodman, and we welcome writers, artists, musicians, actors, philosophers, circus performers and indeed anyone who is troubled by whatever you call that thing buzzing around in your bonnet.
MAY COURSES now OPEN FOR BOOKING with no deposit required.
The Thai Authorities are permitting a limited number of Foreign Tourists to enter the country on 45 Day Tourist Visa Exemptions (renewable) providing they agree to Quarantine for 14 days, and this may be reduced to 7 days if you have a valid Vaccination Certificate.
As a response to this news we have posted the schedule below, and students can now make reservations for these classes by e-mail with NO DEPOSIT REQUIRED. We have a number of students willing to do this, and guarantee to open these classes if we have at least 4 students. (We accept Live-in students only for obvious safety reasons.)
Needless to say, if you are already in Thailand you can join these classes with No Quarantine and also No Deposit Required.
Any old deposits and/or credits will apply for everybody who has them. If you book and do not manage to get here we will hold your old deposits and/or credits for any other try in the future.
Please make your own enquiries at your nearest Thai Consulate or Embassy and get back to us as soon as possible. And if you know you are coming, please let us know immediately.
We will post a full CALENDAR from September 2021 to June 2022 very soon.

We are very sorry to say we have had to suspend our Zoom Program. On the other hand, our priority now is to restart our Live-in Classes, and Homprang hopes very much she will be able to welcome you here sometime soon in person, perhaps as early as May or June.
HOMPRANG CHALEEKANHA
(you can click on the photo to see some of the things she does)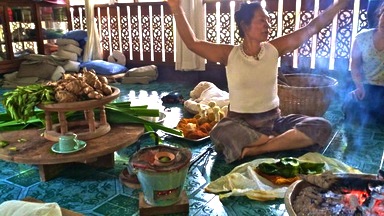 Baan Hom Samunphrai is the home of Maw Samunphrai ("Herbal Medicine Doctor") Homprang Chaleekanha, 61, a specialist in Traditional Thai Massage (Nuad Boran) and Thai Yoga (Rasidaton) who also practices Thai Therapeutic Massage, Midwifery and Herbal Medicine. 'Maw Hom,' as she is called, grew up in a small village on the Burmese border with no road or electricity, the only 'doctor' being her rice-farming grandmother who doubled as the local mid­wife and herbalist -- there's more about her grandmother here. Maw Hom is now not only licensed by the Thai Ministry of Public Health as a Traditional Doctor but as a Herbal Pharmacologist, a Traditional Midwife, and a Massage Teacher, and her school is approved by the Thai Ministry of Education. She has also travelled widely in Europe and North America, and is fluent in English as well as Thai, a rare facility among genuine traditional healers. And finally, Homprang is very active in the local Thai community, and volunteers her time and expertise to Thai patients as well as to the growing number of Thai students coming back to their traditional medicine. And she's an inspiring leader.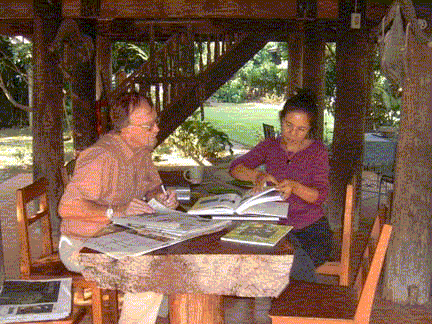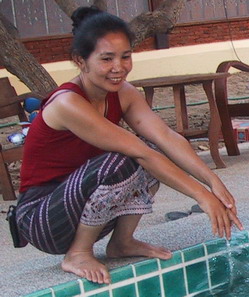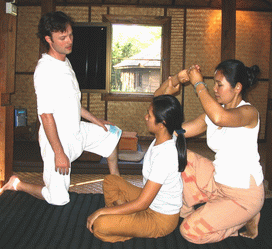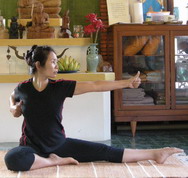 Maw Hom comparing notes with a Canadian Botanist; enjoying her friends by the pool; working with two professional colleagues, one Thai, one English; leading the Rasidaton (Thai Yoga) at 7am.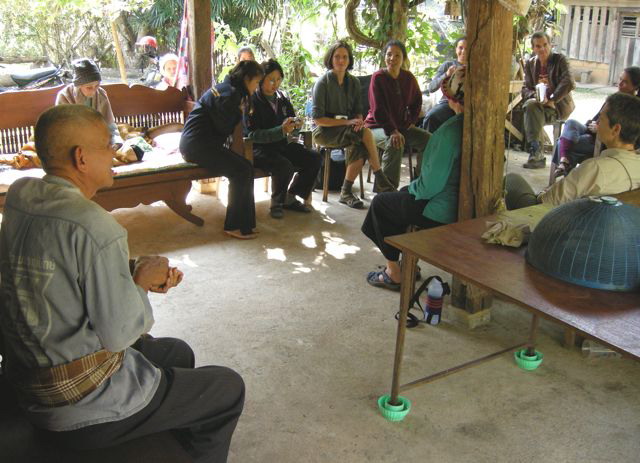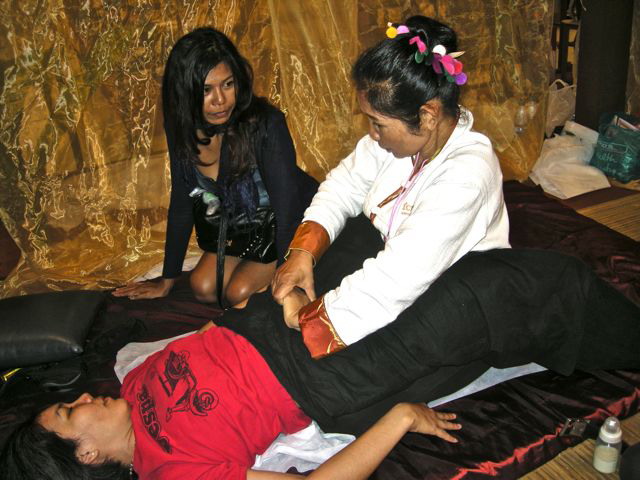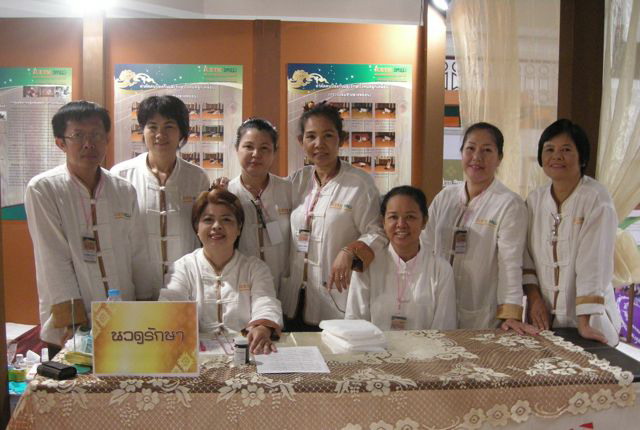 Introducing her western students to Acharn Suwan, a Buddhist philosopher & herbalist, at his simple garden retreat in Chiang Dao; demonstrating 'Womb-lifting' at an International Health Exhibition; with her colleagues at The Association of Thai Traditional Healers -- as a group they are heavily involved with teaching young Thai students old medicine!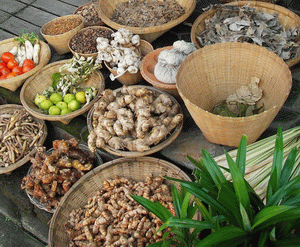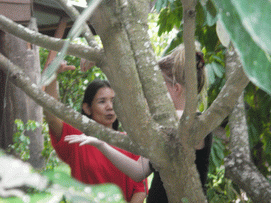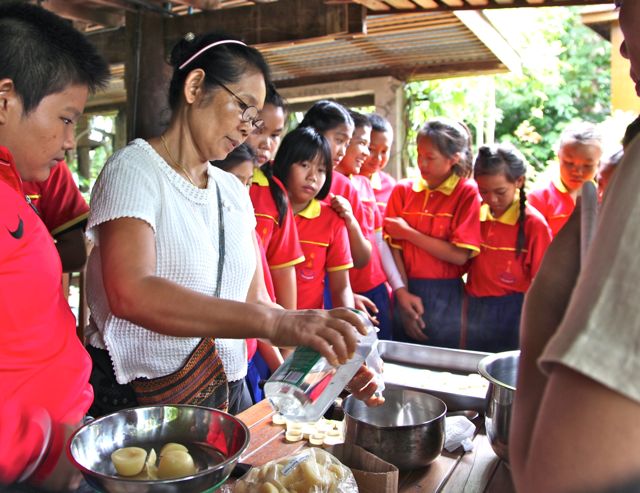 All the above roots, stems, leaves, flowers and fruit have medicinal value, and Maw Hom will show you them if not in her own herb garden then in her community or earth market. In the final photo, Maw Hom is showing Thai children from an International School how medicines were made when she was a child. The students all left with a little bottle of Tiger Balm made by themselves. This, she feels, is some of her most influential work.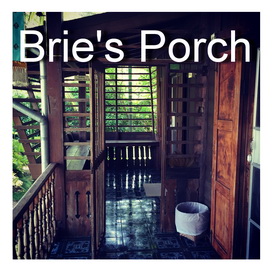 An appreciation of us by Brie Jacobs.
"Thailand for me was such a beautiful, eye opening, majestic experience. I took over 4,000 photos in an effort to preserve the impressions as much as possible for when I got back home. Its something I want to relive over and over ."
(May 12th to July 2nd, 2015)
Click on Brie's Porch for an inspired visual diary.