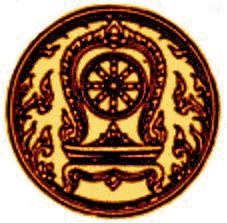 Under the control of the
Thai Ministry of Education
Chor Mor 04-004/2554
CLICK BELOW FOR
MORE PAGES


Thai Language Page
Credentials & Licenses


Address:
Baan Hom Samunphrai
93/2a Moo 12
Tawangtan, Saraphi,
Chiang Mai 50140,
THAILAND
tel. 053-817-362tel. 081.885.1429
(Homprang direct)
e-mail: baanhom@homprang.com



Thai Language Page
Credentials & Licenses


Address:
Baan Hom Samunphrai
93/2a Moo 12
Tawangtan, Saraphi,
Chiang Mai 50140,
THAILAND
tel. 053-817-362
tel. 081.885.1429
(Homprang direct)
e-mail: baanhom@homprang.com


Thai Language Page
Credentials & Licenses


Address:
Baan Hom Samunphrai
93/2a Moo 12
Tawangtan, Saraphi,
Chiang Mai 50140,
THAILAND
tel. 053-817-362
tel. 081.885.1429
(Homprang direct)
e-mail: baanhom@homprang.com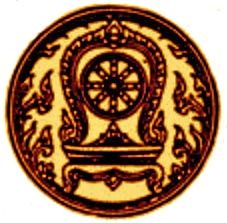 Under the control of the Thai
Ministry of Education:
Chor Mor 04-004/2554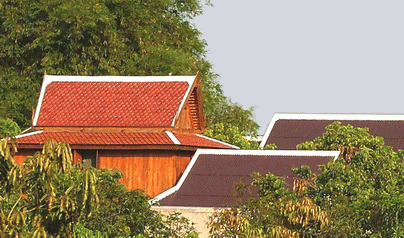 "The House of Sweet Smelling Herbs"
GENERAL INTRODUCTION. You can click on what interests you below.
We're a Traditional Thai Massage School and Herbal Medicine Centre as well as a sort of Thai village inn with Live-in Accommodations for both students and guests. Licensed by the Thai Ministry of Education, we offer courses in Traditional Thai Massage, Womblifting and Related Herbal Therapies -- our classes are for 10 to 25 days with a maximum of 12 live-in students from novice to professional. But what's really unique about us as a school is our guests and non-studying partners, some even with children. Indeed, everybody is welcome here, and anybody can sit around our big table or in a chair on the screened porch upstairs in one of our old wooden farmhouses.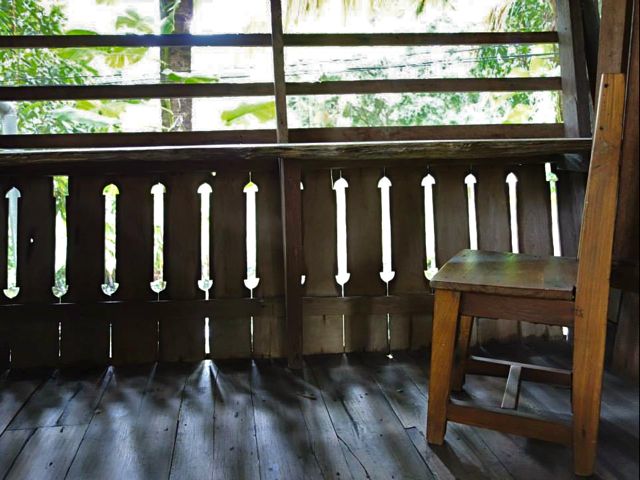 s
Our Director, the well-known teacher, Homprang Chaleekanha, is licensed as a Traditional Doctor, Herbal Pharmacologist, and Midwife by the Thai Ministry of Public Health, and our Certificates recognized by The Thai Ministry of Education. In addition, we host Groups, Conferences and Seminars (up to 20 participants) for those who want to come here with their own teachers and/or special interests. And this is also the home of the poet, Christopher Woodman, and we welcome writers, artists, musicians, actors, philosophers, circus performers and indeed anyone who is troubled by whatever you call that thing buzzing around in your bonnet.
STUDY AT BAANHOM SAMUNPHRAI
As soon as we are able to start live classes again we will, with the greatest pleasure, and we are carefully guarding the Deposits of all of you who tried to get here last March right up to the present. We have also posted all our live courses on our CALENDAR PAGE right up to June 2021, and will take bookings as soon as travel to Thailand becomes possible again.
VISAS & QUARANTINE.
We tried very hard to get students here this Fall, but even though there is very little Covid-19 in Thailand, the Government has not opened the country for STUDENT VISAS. (Although we are very disappointed, we do agree with that decision.)
The next step is likely to be easier with the country offering 90 DAY TOURIST VISAS (renewable 3 times!), but the 14 DAY QUARANTINE will apply for the time being. The VACCINE, of course, will change all that.
We have a number of students who are willing to do the Quarantine in order to study for 3 or 4 months with us, and to make this financially possible we are offering them a 15% DISCOUNT to help out with the extra cost.
Course Rates with Special 15% Covid Discount:
60hr Course: 9 Study Days + 1 day off @ Bt. 20,900 -15%) = Bt. 17,765
80hr Course: 12 Study Days + 1 day off @ Bt. 27,500 -15%) = Bt. 23,290
150hr Course: 22 Study Days + 3 days off @ Bt. 51,700 -15%) = Bt. 43,945
We are offering a SERIES OF GRADUATED COURSES starting in February 2021. The idea is to make it worth your time and effort to get here and do some serious study, so you can take as few or many courses as you wish, and stay with us for up to 3 or 4 months in one go. And there is a 3 week break in the middle to relax and explore Thailand.
Don't forget that everything is included at Baan Hom Samunphrai, so you don't have to spend a penny anywhere else -- and to be safe in class we don't want everybody in & out of town anyway. And you've got Maw Homprang as your teacher with the best of assistant teachers, Ajarn Bang, the most beautiful garden, meditation sala, wifi, bicycles, delicious food, good talk-- and a training for a lifetime! What better way to use this crisis, for you & for us?
You can go to our CALENDAR PAGE for more Information.

THAI MASSAGE + HERBAL WORKSHOP SERIES
February to June 2021.
(You may take as many or few as you like.)
We hope and pray that students may be able to travel again soon and that some of you may be able to spend the 3 or 4 months with us you were unable to do last Fall. That's our dream!
Please do get in touch if you are interested and/or just hopeful!
1.) Feb. 2nd to 14th, 2021 80hr THAI MASSAGE CANCELLED
2.) Feb. 18th to March 14th, 2021 150hr THAI MASSAGE CANCELLED
3.) Mar 22 to April 2nd, 202160hr WOMBLIFTING & POSTPARTUM CARE OPEN
Songkran Festival Student Break!
4.) Apr 21 to May 15, 2021 150hr SPECIAL THERAPEUTIC MASSAGE OPEN
5.) May 19 to 31st, 2021 60hr HERBAL WORKSHOP & FOOD AS MEDICINE OPEN
For more Details and Course Descriptions please go to our


STAY TUNED FOR MORE!
Our Zoom Impressario & Director, Khun Ting, is having a much
needed break. Please let us know what you might like next at
homprangzoom@gmail.com

HOMPRANG CHALEEKANHA
(you can click on the photo to see some of the things she does)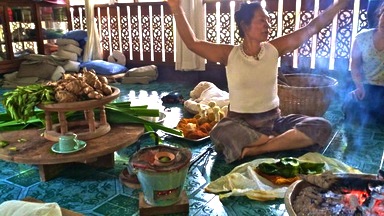 Baan Hom Samunphrai is the home of Maw Samunphrai ("Herbal Medicine Doctor") Homprang Chaleekanha, 61, a specialist in Traditional Thai Massage (Nuad Boran) and Thai Yoga (Rasidaton) who also practices Thai Therapeutic Massage, Midwifery and Herbal Medicine. 'Maw Hom,' as she is called, grew up in a small village on the Burmese border with no road or electricity, the only 'doctor' being her rice-farming grandmother who doubled as the local mid­wife and herbalist -- there's more about her grandmother here. Maw Hom is now not only licensed by the Thai Ministry of Public Health as a Traditional Doctor but as a Herbal Pharmacologist, a Traditional Midwife, and a Massage Teacher, and her school is approved by the Thai Ministry of Education. She has also travelled widely in Europe and North America, and is fluent in English as well as Thai, a rare facility among genuine traditional healers. And finally, Homprang is very active in the local Thai community, and volunteers her time and expertise to Thai patients as well as to the growing number of Thai students coming back to their traditional medicine. And she's an inspiring leader.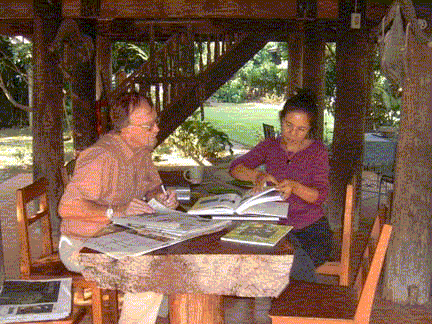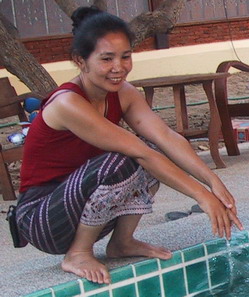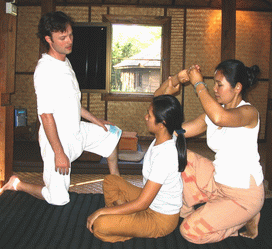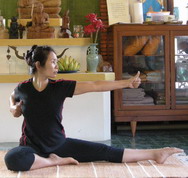 Maw Hom comparing notes with a Canadian Botanist; enjoying her friends by the pool; working with two professional colleagues, one Thai, one English; leading the Rasidaton (Thai Yoga) at 7am.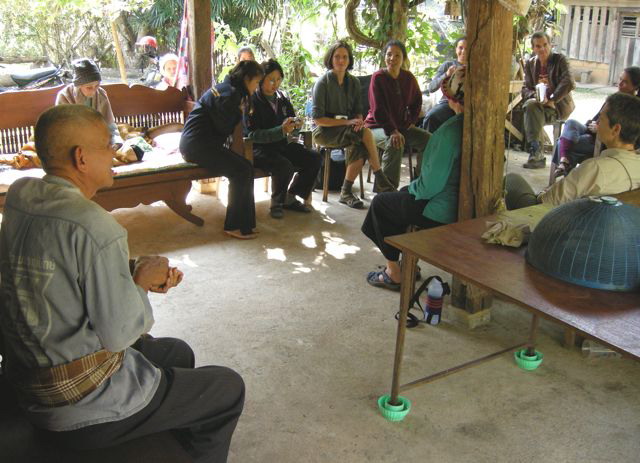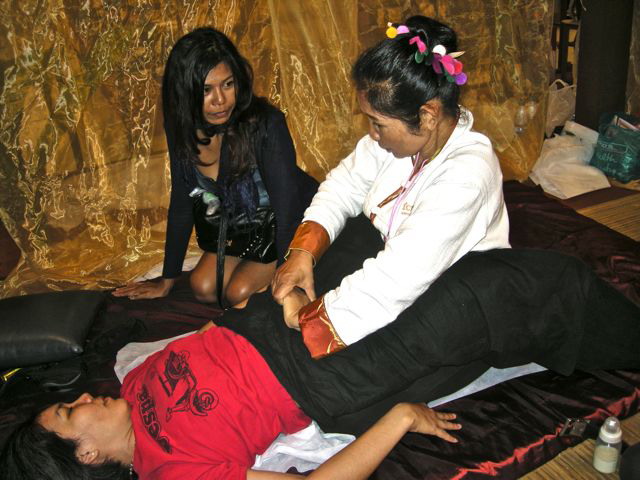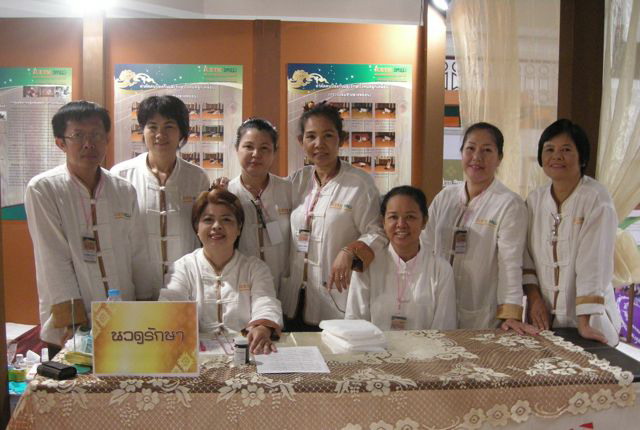 Introducing her western students to Acharn Suwan, a Buddhist philosopher & herbalist, at his simple garden retreat in Chiang Dao; demonstrating 'Womb-lifting' at an International Health Exhibition; with her colleagues at The Association of Thai Traditional Healers -- as a group they are heavily involved with teaching young Thai students old medicine!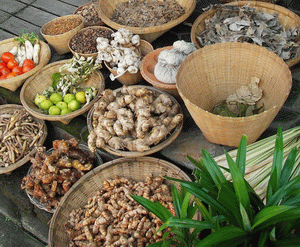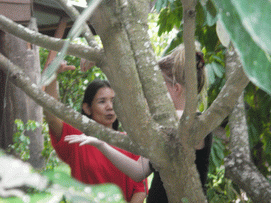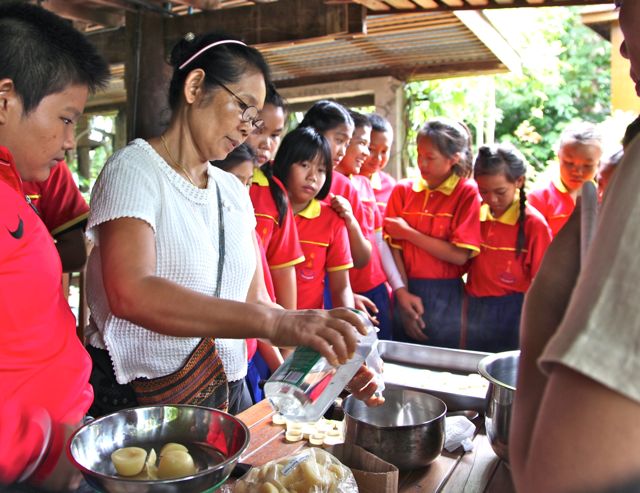 All the above roots, stems, leaves, flowers and fruit have medicinal value, and Maw Hom will show you them if not in her own herb garden then in her community or earth market. In the final photo, Maw Hom is showing Thai children from an International School how medicines were made when she was a child. The students all left with a little bottle of Tiger Balm made by themselves. This, she feels, is some of her most influential work.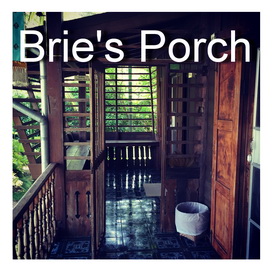 An appreciation of us by Brie Jacobs.
"Thailand for me was such a beautiful, eye opening, majestic experience. I took over 4,000 photos in an effort to preserve the impressions as much as possible for when I got back home. Its something I want to relive over and over ."
(May 12th to July 2nd, 2015)
Click on Brie's Porch for an inspired visual diary.