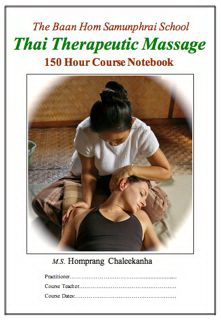 The new 150 Hour Special Therapeutic Course is open only to ex-students because the work is technically so complex and sensitive. If a shared feeling for technique is not there from the start, working together at this level is not possible, and in the end a patient may even be damaged.
As in all Homprang's workbooks, there are hundreds of photographs but very few words, and what diagrams there are are suggestive rather than definitive. Cameras and videos are discouraged as well because they distance the student from the experience. Homprang wants her students to concentrate on what they are seeing and then to feel their way into a particular treatment before they start recording it. And when they do begin to write it down she wants them to use their own native languages -- and to write in pencil so the notes can be revised each day for the duration of the course, and that means for almost a month!
Knowing the names and anatomical positions of the sen lines and energy points, that's just in the head, Homprang insists. The art is to find them with your own two hands and then to work with them based on your own feeling for the right pressure, rhythm and duration. "That's when the technique must be there, in the touch, in the feel," Homprang says, "because that's when the healing begins, not in the idea, not in the book in the head."
from A THAI THERAPEUTIC MASSAGE WORKBOOK ©
March, 2017
"This workbook is for Homprang Chaleekanha's ex-students who wish to add on the special techniques of Thai Therapeutic Massage to the Thai Traditional Massage they have already studied with her. Needless to say, the special treatments covered in the course are constantly evolving, and Homprang welcomes the participation of professionals who have studied them already, worked with them in their own practices, and then come back to extend and deepen the maneuvers by collaborating with her yet again.
The book includes the complete Thai Traditional Massage as taught in Homprang's 80 Hour and 150 Hour courses so that each new 'Therapeutic' technique can be grafted on to a standard maneuver smoothly and effectively. This applies equally to a single healing intervention of 10 to 15 minutes as it does to a full 'Therapeutic Massage' lasting 3 or 4 hours."