February 4th to 16th, 2019
80hr MULTI-LEVEL THAI-BASED MASSAGE COURSE
led by Visiting Teacher/Colleague, KATJA MÖGLER
Katja Mögler was among Homprang's very first Western students. She attended all of Homprang's different courses over the years, some of them more than once, and also served as her first Intern. In 2012 Katja received one of the first Teacher's Certificates Homprang ever issued as well, and has been teaching ever since.
Ralf Marzen has been another important influence on Katja's professional life. From him she learned the stimulating and dynamic 'Thai Yoga Massage' which she will include in her course. She has also worked closely with Shiatsu therapists who have influenced her profoundly.
Over the past 10 years Katja has developed a very successful Massage Studio of her own in Halle, Germany, where she also teaches Thai Traditional Massage and Hatha Yoga. (You can click here to visit her studio: https://thaimassage-halle.com/en/category/massagen/)
Katja is a very strong, flexible and creative Thai Traditional Massage therapist, but with a big difference! In this course she will be sharing some of the special strategies and techniques that she has developed in her own private practice for over 10 years. The central theme in all her teaching is how to adapt and integrate a variety of massage techniques in a coherent western practice.
The course will be of great interest not only to advanced students and professional therapists with a background in Thai Massage but also in related therapies like Shiatsu, Osteopathy, Physiotherapy & other Bodywork.
Katja will be assisted in the course by Robert Stoiber, a specialist in both Shiatsu and Thai Massage, who has developed a unique combination of the two which he calls 'Thaitsu.' His long professional experience in Thai-based bodywork combined with his work as Katja's colleague will add a special dimension to the course.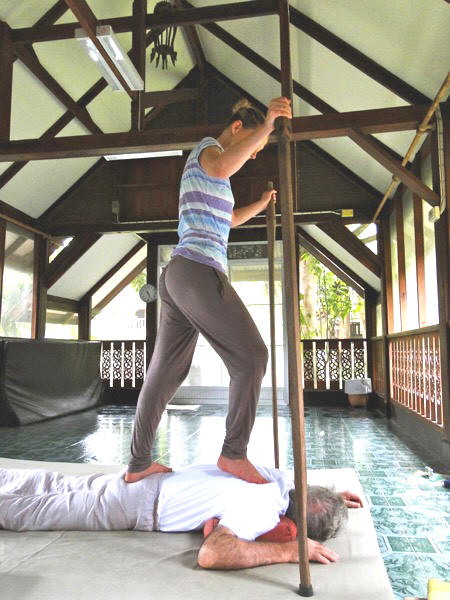 A high point: students will learn not only to use their feet like hands, but also to practice the so-called 'Walking Massage' which Katja is demonstrating in the photo – everybody is interested in this but very few people actually do it!
Katja will also share her practice of (and variations on) both Rasidaton (Thai Yoga) and Hatha Yoga in special sessions before and after class which she hopes will inspire, open up and revitalize the participants. Indeed, the primary intention of the course is to empower a therapist to develop his or her own particular skills, methods and variations.
TOPICS will include:
Therapeutic body-lifts & twists;

Intensive stretching movements and rotations;

Stimulating dynamic fascia work;

A deep grounding in acupressure work (energy points and sen lines);

Techniques for using the therapist's own body in new and surprising ways;

Use of the feet as opposed to the hands, arms and elbows for the full body massage;

The "Step-on" or Walking Massage;

Rasidaton (Thai Yoga) and Traditional Pali Chanting sessions (optional);

Hatha Yoga for Practitioners in the afternoon (optional as well);

Practical Advice on how to launch and develop your own professional practice for maximum effectiveness including self-protection, inspiration, and satisfaction on every level and for everybody involved;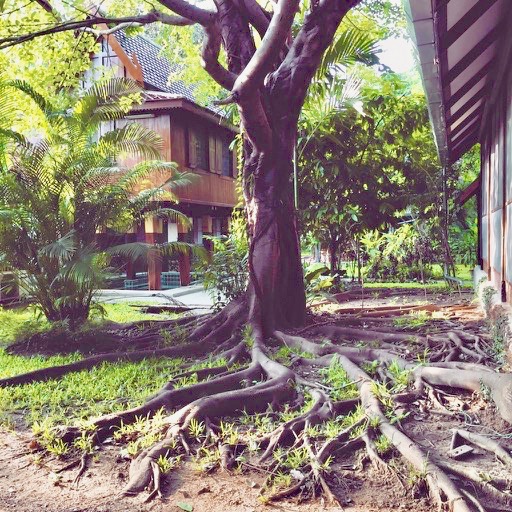 This is the huge Baan Hom Samunphrau 'Banyan' or 'Bo Tree.' (Buddha Tree). Its roots reach way under the Training Sala (Baan Rusi), indeed almost lifting the whole place off the ground -- yet at the same time its branches ward off the sun and keep the practitioner's as well as the patients cool.
Katja says:
"This retreat will not be just about methods and techniques but an intensive break with your assumptions and habits. Through the daily exchange of bodywork, yoga exercises, and light but stimulating Thai cuisine, internal processes will be set in motion which will deeply affect your own health and well-being – indeed, it is my fondest hope that you will learn not only how to care better for others but at the same time care much better for yourselves!
Katja Mögler.
All German as well as English enquiries should be addressed directly to Katja Mögler at info@thaimassage-halle.com.