"'TECHNIQUE' for ADVANCED STUDENTS & PROFESSIONALS"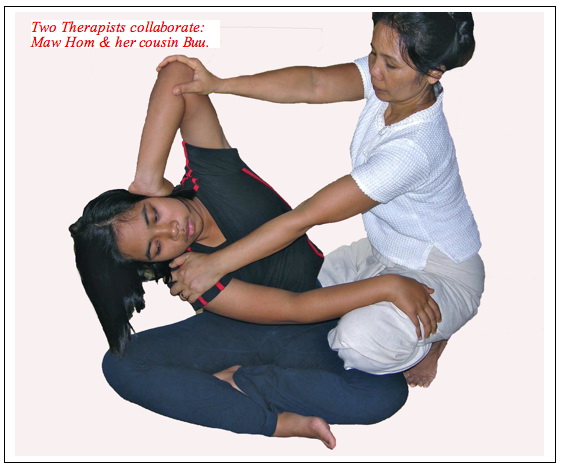 The 80 hour 'TECHNIQUE' for ADVANCED STUDENTS & PROFESSIONALS course is quite different from an ordinary class. It's more like a collaboration or conference, and is designed for experienced therapists who want to deepen themselves and their work through exchange with other experienced colleagues and teachers.
The new 'Technique' course is also important because it qualifies therapists who would like to join Homprang's 150 Hour Special Therapeutic Course but haven't yet had the chance to work with her.
Here's what she says in the introduction to 'TECHNIQUE,' the new Workbook which she has prepared for the course.
'TECHNIQUE'
"Your own individual experience as a professional is extremely important in developing technique as there is no standard model -- there are no textbooks to study or special formulas or spells to master. That's why personal development is so important – without it no practitioner is likely to go very far, or patient to get much better.
We therapists each have our own traits and talents, not just from our training but from our culture, gender, age, physical type and, of course, our own personal practice. In some communities therapists get paid a lot for the work, for example, in others almost nothing. In some places I visit practitioners are thought of as doctors, in others as therapists, in others as comforters, and sometimes just for fun. That's why collaboration is so important in a course like this, and a multi-national, multi-social collaboration is what you will find at Baan Hom Samunphrai -- not just a faithful copy of an old Asian art that some expert or holy man is supposed to know better than you. That's just an idea, a fantasy -- there is no such model, even in Thailand there isn't, nor is there a Thai club or school you have to join to get ready.
The true Thai Traditional Massage technique exists only when discovered in and by yourself, and you can only develop it further in yourself as well, and that means in your own heart and hands, not just in your head And you have to give yourself time for that, and the older you get the more urgent it becomes. It never comes easily either, at least not after the first youthful beginning it doesn't. Yet it's all there right from the start if you work on it right, in the feel, in the touch -- seeds waiting to be developed in and by you."
Homprang Chaleekanha
CLICK HERE TO RETURN TO THE COURSE LIST